Roll over image to zoom in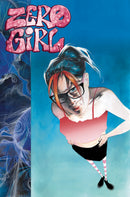 Description
MTV's Liquid Television. Zero Girl is the story of Amy Smootster, a 15 year-old high school student whose feelings of alienation and loneliness occasionally manifest in the form of odd abilities. She deals as best she can with the help of her high school guidance counselor Tim, whom she is secretly in love with.

Bullet points:
* Teen angst is always timely in this re-presentation of Sam Kieth's 2001 comic book series.
* Advance solicited for September release!
Payment & Security
Your payment information is processed securely. We do not store credit card details nor have access to your credit card information.