Roll over image to zoom in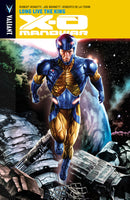 Description
WITNESS THE LAST STAND OF EARTH'S GREATEST CHAMPION IN "LONG LIVE THE KING"!

They're here! The Torment - a world-devouring race
older than history itself - has arrived on Earth. And now, all that stands between our existence and complete annihilation is Aric of Dacia, heir to the Visigoth throne and wielder of the X-O Manowar armor! But as the Torment unleash a wrath unlike anything the galaxy has seen, even Earth's most powerful protector will find himself hopelessly outmatched. With humanity standing on the brink of extinction, X-O Manowar must turn to his greatest adversary for help - the savage Commander Trill!

New York Times best-selling writer Robert Venditti (WRATH OF THE ETERNAL WARRIOR) and
acclaimed artists Joe Bennett (52) and Roberto De La Torre (Daredevil) make history across the cosmos as Valiant's flagship series marches toward a planet-shaking finale!
Payment & Security
Your payment information is processed securely. We do not store credit card details nor have access to your credit card information.