Roll over image to zoom in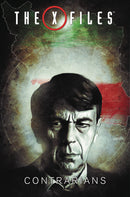 Description
Ongoing mystery and intrigue continues in The X-Files! Mulder chances upon evidence that suggests the now-defunct Syndicate's involvement in the Iran-Contra affair. Guest-starring the Cigarette Smoking Man and President Reagan! Collects issues #10-13.

Bullet points:
* An 11th TV season has been tentatively slated for Fall 2017.
* Advance solicited for September release!
Payment & Security
Your payment information is processed securely. We do not store credit card details nor have access to your credit card information.