Roll over image to zoom in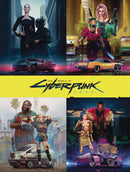 Description
Dark Horse Books and CD Projekt Red present The World of Cyberpunk 2077-an extensive examination of the rich lore of a dystopian epic. Learn all about the history of the neon-tinted districts of Night City! Examine cybernetics, weapons, characters and more in this intricate fusion of art and lore that's a necessity for fans of the hit RPG video game, Cyberpunk 2077!
The deluxe edition features:
o An exclusive cover and slipcase.
o A set of four Night City Autos postcards.
o Temporary Night City gang tattoos.
o A Jonny Silverhand fan poster.
Payment & Security
Your payment information is processed securely. We do not store credit card details nor have access to your credit card information.