Roll over image to zoom in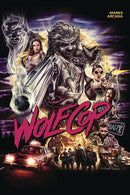 Description
Ever since hard-drinking, local Woodhaven police officer Lou Garou had a late-night bender and stumbled onto dark magic, his life has been turned upside-down. Now he moonlights as WolfCop, a rage-fueled, bourbon-swilling, magnum-toting, rabid warrior for justice!
  Everyone's favorite lycanthropic lawman tears out of the big screen and into this comic to fight bigger, badder and meaner monsters! WolfCop gets caught up in a bit of small-town hospitality when a bordello with dark secrets traps him with his two favorite vices - women and booze. Then when black magic leaves him alone and wolfed-out full time, WolfCop must return home, only for unfamiliar faces to have a surprise party planned for him. Not the fun kind either!
Payment & Security
Your payment information is processed securely. We do not store credit card details nor have access to your credit card information.