Roll over image to zoom in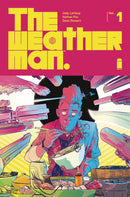 Description
The future's only hope... has a zero percent chance. Nathan Bright had it all: an awesome girlfriend, a kickass dog, and a job as the #1 weatherman on terraformed Mars. But when he's accused of carrying out the worst terrorist attack in human history-an event that wiped out nearly the entire population of Earth-Nathan becomes the target of a manhunt that spans the galaxy. But is Nathan truly responsible for such a horrific crime? And why can't he remember?
Confused, terrified, and totally unprepared for life on the run, Nathan's fate lies in the hands of Amanda Cross, the disavowed government agent assigned to his case. Together the unlikely duo will have to rely on each other as they battle their way through the solar system in search of the truth, and the key to stopping a second extinction-level attack.
A full-throttle, wide-screen, SCIENCE-FICTION epic about the damage we do in the name of justice and what it truly means to be redeemed... you don't want to miss THE WEATHERMAN! Collects THE WEATHERMAN #1-6.
Payment & Security
Your payment information is processed securely. We do not store credit card details nor have access to your credit card information.