Roll over image to zoom in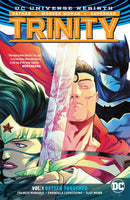 Description
Gotham City's guardian. Metropolis' Man of Tomorrow. Themiscyra's warrior princess. They are Batman, Superman and Wonder Woman. Together, they are the greatest heroes the world has ever seen.
  
And their bond is about to be tested like never before.
  
As an older, wiser Superman takes the place of the brash young hero they once knew, Batman and Wonder Woman find themselves confronted by a force that tests their very souls. It is called the White Mercy, and it wields a power greater than that of the world's greatest heroes combined.
  
Thrown together by fate, these three icons must join together to confront their own weaknesses and defeat the evil in their midst. If they fail, the whole world will fall...
  
The saga of the world's most legendary superheroes begins in TRINITY VOL. 1: BETTER TOGETHER, from writer-artist Francis Manapul and a superstar support team. The start of a stunning saga featuring the greatest heroes in the history of comics! Collects issues #1-6.
Payment & Security
Your payment information is processed securely. We do not store credit card details nor have access to your credit card information.