Roll over image to zoom in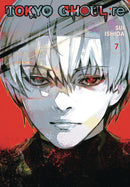 Description
Sen Takatsuki's newest novel has hit the stands and a video of her admitting to being a Ghoul has gone viral! And if that news hasn't done enough to shake things up, the contents of her book are sowing civilian distrust of the CCG. How can investigators effectively take on the Ghoul threat if the public has lost faith in them? And what if Sen Takatsuki's veiled accusations about the CCG brass are true...?
For older teen audiences.
Payment & Security
Your payment information is processed securely. We do not store credit card details nor have access to your credit card information.