Roll over image to zoom in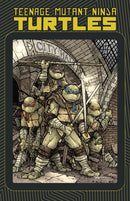 Description
First, Donatello understands that more is at stake than his brothers realize and in order to prepare for the coming conflict, Don will aim to repair his relationship with his mentor, Harold... and his malicious robotic counterpart, Metalhead! Then, Michelangelo's deteriorating relationship with his father, Splinter, reaches a point of no return! Will Mikey fight those he loves to save those who need him the most? Next, Leonardo seeks refuge in Northampton, but danger follows-in the form of Koya and Karai! An epic throwdown will result in Leo making a drastic decision that will quickly alter the course of TMNT history! And finally, Raphael is pushed to his breaking point as he is separated from his brothers and forced to endure an onslaught from the nefarious Bishop unlike anything he has experienced in the past!

Advance solicited for June release!
TMNT returns to its roots in these stories spotlighting each of the individual Turtles.
Payment & Security
Your payment information is processed securely. We do not store credit card details nor have access to your credit card information.