Roll over image to zoom in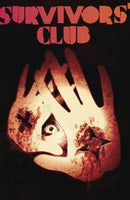 Description
One was possessed by a poltergeist. Another was trapped in a haunted house. A third had a killer doll. Ever wonder what happened to these children of the 1980s? Find out in this paperback collecting the entire nine-issue SURVIVORS' CLUB series.
Having found each other over the internet, six grown-up survivors are drawn together by the horrors they experienced in 1987 when a rash of occult events occurred around the world-with fatal results. Now, there are indications that it may be happening all over again. Is it possible that these six aren't just survivors-but were chosen for their fates?  
Payment & Security
Your payment information is processed securely. We do not store credit card details nor have access to your credit card information.