Roll over image to zoom in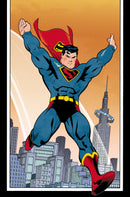 Description
Written by Joe Kelly, Marv Wolfman and Jeph Loeb
Art by Ed Benes, Lee Bermejo, Howard Chaykin, Ian Churchill, Karl Kerschl, Phil Jimenez, Dan Jurgens,
Ed McGuinness, Jerry Ordway, Tim Sale and various
Cover by TK
    The Earth-2 Man of Steel saw his world fall apart during the events of the original CRISIS ON INFINITE EARTHS, and now the secret is finally revealed about what happened to him, Lois, and the other remaining survivors of the Crisis - Alex Luthor of Earth-3 and Superboy from Earth Prime!
    In this collection including SUPERMAN #226, ACTION COMICS #836, ADVENTURES OF SUPERMAN #649 and stories from INFINITE CRISIS SECRET FILES 2006, relive the arrival of Kal-L, the Last Son of Krypton! Learn how he grew up to be the greatest hero of Earth-2. Then watch as Superman is caught by the one person he can't defeat - Lois Lane - and witness the undying love story of the greatest couple of Earth-2, and how their love could bring about the end of the universe.
    This volume also includes a special origin album by Jeph Loeb and Tim Sale, the creative team behind SUPERMAN FOR ALL SEASONS!

Payment & Security
Your payment information is processed securely. We do not store credit card details nor have access to your credit card information.