Roll over image to zoom in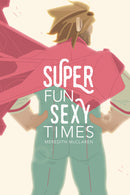 Description
Cartoonist Meredith McClaren (Hinges) tells five short, sexy stories featuring superheroes, supervillains, sidekicks, and the people who love them. Showing consent and character-driven erotic relationships, Super Fun Sexy Times answers the age-old question: what happens when the mask comes off?
Two sidekicks on opposite sides get stuck in an underground lab together, and find a great way to pass the time. A tactician and superhero discuss their desires, limits, and kinks before their first time, and perhaps get a little too excited in the process. A pair of supervillains explore gender and sex together, while growing closer in their relationship. Lesbian heroes try out a kinky roleplaying scenario, and discover how to make it work for both of them. And an exhausted assassin relaxes after a long day with the kind (yet firm) attentions of his husband.
Told with care, sex-positivity, and humor, and featuring a wide variety of sexualities and bodies, Super Fun Sexy Times aims to create an erotic reading experience that lives up to its name!
Payment & Security
Your payment information is processed securely. We do not store credit card details nor have access to your credit card information.