Roll over image to zoom in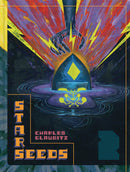 Description
Jack Kirby meets Ram Dass in this epic comics mythology.
Multimedia artist Charles Glaubitz delivers the sequel to 2017's acclaimed Starseeds, a work of pictorial, illustrative, and cosmological components, while combining elements of myth, religion, and spirituality with comics, hermetic ideas, alchemy and science.
After receiving the message in the water infused with the crystal sigil, Renato shares what has been prophesied. Indigo is infected by a black darkness that will soon overtake his soul. The Illuminatis regroup and set forth a new plan. We are introduced to new characters, such as "The Rainbow Twins." The prophecy of the seven Starseeds comes to pass and a new being is created that will face off with the coming Black Darkness of the Lizard King. Renato recounts the story of the Big Bang and the birth of the four cosmic god forces that govern and shape our universe.
Starseeds is an epic journey, by turns fantastical, mythological, and visually arresting.
Payment & Security
Your payment information is processed securely. We do not store credit card details nor have access to your credit card information.