Roll over image to zoom in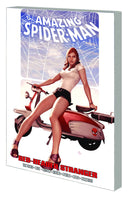 Description
Written by FRED VAN LENTE with BRIAN REED
Penciled by BARRY KITSON, ROBERT ATKINS, JAVIER PULIDO, LUKE ROSS & YANICK PAQUETTE
Cover by ADI GRANOV
Who can forget MJ? Adored by many in the life of Peter Parker and cherished by the man himself, she's nonetheless been a stranger in these parts for some time now. But just when you'd given up hope, the red-headed stranger is back and looking better than ever! Mary Jane Watson returns in a tender story of reunion and rapprochement. But also returning to town is the Chameleon - and this master of disguise is creepier, more evil than ever before! Collecting AMAZING SPIDER-MAN #602-605.

Payment & Security
Your payment information is processed securely. We do not store credit card details nor have access to your credit card information.