Roll over image to zoom in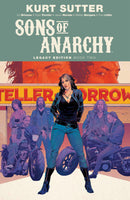 Description
BOOM! Studios presents the the second of three Sons of Anarchy Legacy Editions! Collecting the previously released Sons of Anarchy comic for the first time under one cover in an all-new value priced format that no fan can afford to miss.
With stories taking place throughout key seasons of the his show, Kurt Sutter delivers the epic outlaw story of Charming's most notorious biker gang as they to keep the family together, while also staying one step ahead of the law. Collects Sons of Anarchy (2014) #7, #15-25.
Payment & Security
Your payment information is processed securely. We do not store credit card details nor have access to your credit card information.