Roll over image to zoom in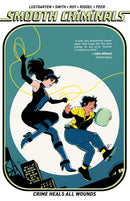 Description
* When Mia Corsair, the greatest cat burglar the 1960s had ever seen, woke up in a new world of dial-up, zip-off cargo shorts, and Y2K, the only thing she wanted was to catch back up to where she'd been in 1969: On the verge of her biggest heist ever, and with it, mere inches away from getting away with millions of dollars (and that was in '60s money, too), notoriety... and freedom.
* Luckily for Mia, the nerd who accidentally unfroze her in the 1990s, Brenda Ospina (Tech Support, City College), might just be able to help her blend in this brave new world, not to mention Brenda's got modern, tech-savvy tricks up her sleeve to help pull off the heist of the new millennium!
* Written by Kirsten "Kiwi" Smith ( Legally Blonde ), Kurt Lustgarten ( Misfit City ), and Amy Roy and illustrated by the incredible Leisha Riddel, rev up your getaway car and settle in for an adventure unlike any other.
Payment & Security
Your payment information is processed securely. We do not store credit card details nor have access to your credit card information.