Roll over image to zoom in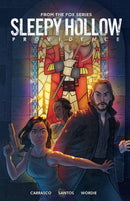 Description
* Written by Eric Carrasco (Fox's Sleepy Hollow), and illustrated by Victor Santos (Big Trouble in Little China), this self-contained limited series bridges seasons 2 and 3 of the hit 20th Century Fox television series.
* Ichabod Crane is finally getting used to life in modern-day Sleepy Hollow, and with the tragic loss of his wife and son, he now has no ties to his past. But when Jenny, a treasure hunter, uncovers a legendary artifact tied to a mysterious Amish girl and a band of vicious demon bikers, Ichabod, Jenny, and Abbie Mills will need all the power the old ways can provide . . . because it's time for a road trip to Amish country.
Payment & Security
Your payment information is processed securely. We do not store credit card details nor have access to your credit card information.