Roll over image to zoom in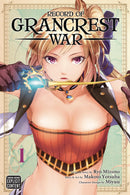 Description
In a world where the noble elite are supposed to fend off the threat of terrifying Chaos but instead engage in pointless petty squabbles, young mage Siluca Meletes dreams of bringing justice to the land. She finds an ally in Theo, a young knight with a bright future. But as Theo soon finds out, despite her righteous goal of world peace, her methods are more than a little unorthodox!
Record of Grancrest War is a high-fantasy adventure based on the popular light novel and anime series by Ryo Mizuno, the creator of the classic series Record of Lodoss War, the most beloved fantasy anime of all time.
Payment & Security
Your payment information is processed securely. We do not store credit card details nor have access to your credit card information.