Roll over image to zoom in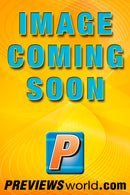 Description
Written by Dave Gibbons
Art by Ivan Reis, Joe Prado and Marc Campos
Cover by Reis & Campos
                                       Don't miss this thrilling new trade paperback that collects the 6-issue miniseries that helped set the stage for INFINITE CRISIS!
                                       The planet Rann was taken from its solar system, hidden for its own protection. But when the danger passed, it was placed in a different system. Now threatening Thanagar's very existence, Rann tries to maintain peace and save the populations of two worlds. A religious fanatic, though, aspires to something else: power. And to achieve it, she's willing to sacrifice as many people and as many worlds as necessary!
                                       Standing in her way are the greatest champions from across the universe: Adam Strange, Hawkman, Hawkwoman, Green Lantern, the Omega Men, L.E.G.I.O.N. and the Darkstars. Alliances are forged, friendships tested, and the balance of galactic power will be redefined before the conflict is over!
Payment & Security
Your payment information is processed securely. We do not store credit card details nor have access to your credit card information.