Roll over image to zoom in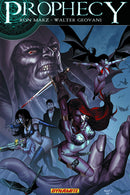 Description
The biggest crossover event ever from Dynamite Entertainment stars an astounding array of characters who must form an uneasy alliance and save the world from the Mayan doomsday prophecy! From sword-wielding woman warriors to mad scientists, from vampire vixens to undead overlords, Prophecy has everything ... and then some!
When flame-haired warrior Red Sonja follows sorcerer Kulan Gath through time from the barbaric Hyborian Age, she unleashes a chain of events that will put her side-by-side with an unprecedented gathering of characters: Dracula, Vampirella, Pantha, Athena, Eva, Herbert West Re-Animator, and Ash from "Army of Darkness." Even Sherlock Holmes, Dr. Watson, and Alan Quatermain get in on the action!
Collecting the 7-issue mini-series, plus character bios, Ron Marz's original script to issue #1, and all covers by Paul Renaud in one complete volume.
Payment & Security
Your payment information is processed securely. We do not store credit card details nor have access to your credit card information.