Roll over image to zoom in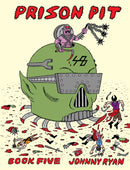 Description
THE HOLOCAUST BROTHERS TAKE THEIR BOW IN JOHNNY RYAN'S GORY MONSTERPIECE
A huge success in the alternative-comics field, with the first two volumes already in second printings, Prison Pit is Johnny (Angry Youth Comix) Ryan's ongoing taboo-busting sci-fi-prison-planet-body-mutation-splatterfest epic extravaganza, beloved by everyone from the legendary Gary Panter ("GLOREGEFULL!") to Booklist ("Not to be missed").
In the latest installment, our hero Cannibal Fuckface still isn't dead, so the Prison Boss plays what may be his last card: The Holocaust Brothers. But before CF battles the Ho-Bros he's got to destroy his arch-enemy, the seemingly indestructible Slitt, who happens to be the only one who knows how to get the hell out of the Prison Pit.
The author promises: "Every single testicle in the world will explode with rage when Prison Pit 5 is unleashed."
Payment & Security
Your payment information is processed securely. We do not store credit card details nor have access to your credit card information.