Roll over image to zoom in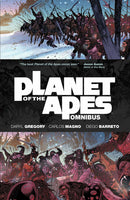 Description
Ape and Human societies have reached a new golden age, but peace never lasts for long. Ripples of dissent are spreading in both the Ape and Human ranks and when a mysterious assassin guns down the beloved Lawgiver, tensions will reach a boiling point! Can one human solve the mystery of the Lawgiver's murder before war engulfs all of society? Or is this the beginning of the end for Apes and Humans alike?
Set over 1,000 years before the arrival of Colonel George Taylor, award winning novelist Daryl Gregory (Spoonbenders, Pandemonium) and critically acclaimed artist Carlos Magno present the story of the rise of the original Planet of the Apes !
Collects the sixteen-issue series, plus Planet Of The Apes Special #1, Planet Of The Apes Spectacular #1, Planet Of The Apes Giant #1, and Planet Of The Apes Annual #1.
Payment & Security
Your payment information is processed securely. We do not store credit card details nor have access to your credit card information.