Roll over image to zoom in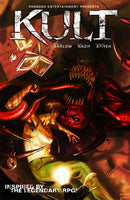 Description
Fondly remembered for its philosophical complexity and controversial content, Kult has achieved legendary status amongst role-playing gamers.

The Kult graphic novel introduces this setting anew with parole officer Tomas Zenk, one of the few who can pierce the illusion. As he overcomes monsters sent to kill him, Zenk discovers the true extent of his powers, including the ability to exert control over the machinery of humanity's enslavement. But will he aid the forces attempting to bring down the illusion . . . or succumb to the temptations of power? Collects the four-issue miniseries.

Payment & Security
Your payment information is processed securely. We do not store credit card details nor have access to your credit card information.