Roll over image to zoom in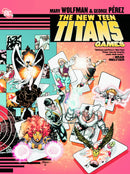 Description
  • At last, the original graphic novel over 20 years in the making from THE NEW TEEN TITANS team of Marv Wolfman and George Perez is available in trade paperback!
•  In this epic story, a mysterious villain plays a deadly game with New York City as the gameboard - and the Teen Titans as the pieces!
Payment & Security
Your payment information is processed securely. We do not store credit card details nor have access to your credit card information.