Roll over image to zoom in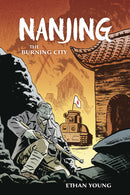 Description
After the bombs fell, the Imperial Japanese Army seized the Chinese capital of Nanjing. Screams echo off the rubble, as two abandoned Chinese soldiers- trapped and desperately outnumbered inside the walled city-try to escape. What they'll encounter will haunt them. But in the face of horror, they'll learn that resistance and bravery cannot be destroyed.
Ethan Young (The Battles of Bridget Lee, Tales, Life Between Panels) delves into World War II's forgotten tragedy and tells a heart-wrenching tale of war, loss, and defiance.

o Winner of the 2016 Reuben Award for Best Graphic Novel!
Payment & Security
Your payment information is processed securely. We do not store credit card details nor have access to your credit card information.