Roll over image to zoom in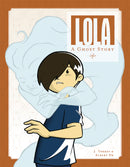 Description
J. Torres and Elbert Or celebrate 10 years of Lola: A Ghost Story, the critically-acclaimed graphic novel that explores family, grief and  Filipino folklore in an all-new edition that includes a revised ending and updated illustrations.

Jesse didn't really know his Lola (the Tagalog word for grandmother), but he remembers that she tried to drown him as a baby. Strange stories surround Lola: she had visions, she fought off monsters straight out of Filipino folklore, and, according to some, she may have even seen ghosts.

Now Jesse is struggling with the same visions Lola had, but Lola's not around anymore, and the rest of his family are too tied up in their own personal demons to help. Personal demons that Lola might have helped with, if she were still alive. As Jesse explores his new abilities, he realizes that he might be the one who needs to step into that role-and that helping others might just help him, too.
Payment & Security
Your payment information is processed securely. We do not store credit card details nor have access to your credit card information.