Roll over image to zoom in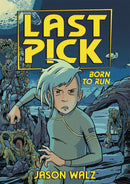 Description
The last picked might be earth's last hope in this second volume of a YA graphic trilogy.
Aliens have kidnapped most of mankind, leaving behind those they deem unworthy-the "last picked."
The future for Sam is bleak and unthinkable. A galaxy away from her twin brother, she is a pawn in the aliens' bloody civil war. But with her new friend Mia, Sam has found a way to resist her captors and hold onto her humanity.
Back on earth, Sam's twin, Wyatt, is leading a resistance of his own. With a ragtag army of the old, the young, and the disabled, he has a plan that brings the fight to his alien captors. But to defeat the aliens, Wyatt may need to befriend one.
In the second volume of the Last Picked trilogy, Jason Walz pairs vivid world-building and fast-paced adventure in a beautiful story of bravery, sacrifice, and sibling devotion.
Payment & Security
Your payment information is processed securely. We do not store credit card details nor have access to your credit card information.