Roll over image to zoom in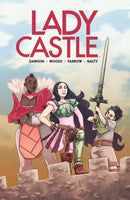 Description
When all the men in Mancastle get eaten by a dragon, the women take over! Now the blacksmith's wife Merinor is King, Princess Aeve is the Captain, and the only remaining (and least capable) knight Sir Riddick is tasked with teaching the ladies of the castle how to defend against all manner of monsters!
Novelist Delilah S. Dawson (Star Wars: The Perfect Weapon, As Wicked as She Wants, Wake of Vultures) brings her first original series to comics, and is joined by breakthrough illustrators Ashley A. Woods (Niobe: She Is Life) and Becca Farrow for a rollicking fantasy adventure featuring women reclaiming their lives on their terms. Collects the complete limited series.
Payment & Security
Your payment information is processed securely. We do not store credit card details nor have access to your credit card information.