Roll over image to zoom in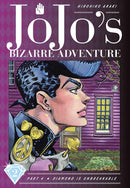 Description
Jotaro Kujo discovers a lead on the stolen bow and arrow, but is it too late to stop the thief? While Jotaro is investigating that lead, Josuke Higashikata and Koichi Hirose find a new ally in...Okuyasu?! The bully wants to mend his ways after the death of his brother, and the first step is going to school with Jotaro and Koichi. Plus, Yukako Yamagishi enters the scene, and she's got love on her mind and anger in her heart. Will Koichi survive his first brush with true love?
For older teen audiences.
Payment & Security
Your payment information is processed securely. We do not store credit card details nor have access to your credit card information.