Roll over image to zoom in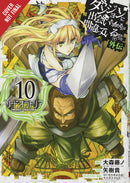 Description
Loki Familia has reached the unknown 59th Floor, and it's not quite what they expected. A corrupted spirit, composed of other spirits devoured by monsters, lies before them, and for some reason, it's calling Aiz "Aria"...

For readers ages 13 and up.
Payment & Security
Your payment information is processed securely. We do not store credit card details nor have access to your credit card information.