Roll over image to zoom in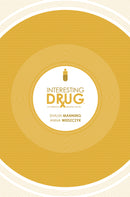 Description
WHY WE LOVE IT: If you could take a pill and travel back to any time in your life, where would you go? Newcomer Shaun Manning hooked us with his fresh sci-fi thriller, illuminating the dangers of living in the past.
WHY YOU'LL LOVE IT: If Richard Linklater directed a season of BREAKING BAD written by J. J. Abrams, it'd probably be pretty close to what Manning and Wieszczyk have built-a tripped-out psychological thriller full of scrappy anti-heroes and some of the most villainous scum of all space and time.
WHAT IT'S ABOUT: When a man from the future recruits average Best Buy worker Andrew Smith to help him create a drug that will allow him to travel through time, Andrew thinks he's found the way to erase all his problems. However, the power of nostalgia proves to be the strongest of drugs, creating an epidemic of addiction with Andrew as its unwitting kingpin.
Payment & Security
Your payment information is processed securely. We do not store credit card details nor have access to your credit card information.