Roll over image to zoom in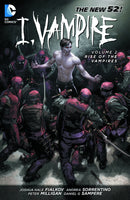 Description
• In this second New 52 collection, Andrew Bennett finds himself in a place he never thought he'd reach during his countless decades walking the Earth. But his absence on Earth signals a deadly loss of order in the vampire hierarchy, as the savage attack on humanity he's long feared looks like it's coming to pass. Plus, the vampire pilgrimage begins-but along the way, they encounter an ancient enemy: the Van Helsings!
•  Collects I, VAMPIRE #7-12 and JUSTICE LEAGUE DARK #7-8.
Payment & Security
Your payment information is processed securely. We do not store credit card details nor have access to your credit card information.