Roll over image to zoom in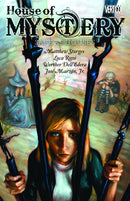 Description
Written by MATTHEW STURGES
Art by LUCA ROSSI, WERTHER DELL'EDERA, PHIL NOTO, ESAO ANDREWS, MARLEY ZARCONE, CARINE BRANCOWITZ, CRISTIANO CUCINA, BRENDAN MCCARTHY and JOSE MARZAN JR.
Cover by ESAO ANDREWS

In this volume featuring issues #26-31 of the acclaimed series, witches and goblins abound as Fig and The Witch Queen run from the Thinking Man's robot army that is fighting for control of the Summerlands.

Payment & Security
Your payment information is processed securely. We do not store credit card details nor have access to your credit card information.