Roll over image to zoom in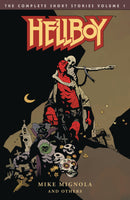 Description
In 1994 Mike Mignola released the first Hellboy series, Seed of Destruction, as Hellboy faced his supposed destiny as Beast of the Apocalypse. Before that, he'd spent fifty years fighting monsters as a somewhat carefree member of the Bureau for Paranormal Research and Defense. The Complete Short Stories volumes 1 & 2 present those early adventures.
"The Crooked Man" and "Double Feature of Evil," both of which earned Mignola and his legendary collaborator Richard Corben Eisner Awards, are collected with the complete "Hellboy in Mexico" saga, featuring collaborations with Corben, Mick McMahon, Gabriel Ba, and Fabio Moon, as well as one of Mignola's early masterpiece, "The Corpse."  This 368-page volume covers Hellboy's adventures from 1947 to 1961.
Payment & Security
Your payment information is processed securely. We do not store credit card details nor have access to your credit card information.