Roll over image to zoom in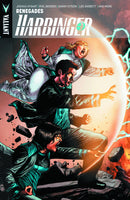 Description
Outside the law. Inside your head. Welcome to the Renegades. Battered and broken after his escape from the Harbinger Foundation, telekinetic teenager Peter Stanchek only has one option left - run. But he won't have to go it alone. Crisscrossing America with the only two people he can trust, Peter will have to activate a new team of super-powered recruits before Toyo Harada and his Harbinger shock troops can reach them first. Peter Stanchek. Zephyr. Kris. Flamingo. You've never met a team of super-powered teenagers quite like the Renegades. And, together, they'll dismantle Harada's global empire one brick at a time.
Collecting HARBINGER #6-10 by New York Times best-selling author Joshua Dysart and an all-star cast of comics' top artistic talents, get ready for the second stunning volume of the series Ain't It Cool News calls "simply astonishing."
Payment & Security
Your payment information is processed securely. We do not store credit card details nor have access to your credit card information.