Roll over image to zoom in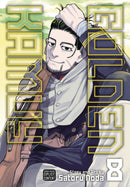 Description
The pursuit of the hidden Ainu gold takes Toshizo Hijikata closer to the truth about Asirpa's father...or does it? Sugimoto and Asirpa arrive in the town of Yubari just as Hokkaido glides into spring, but little do they know that their nemesis Lieutenant Tsurumi is also there with his men. Tsurumi has hired the psychotic taxidermist Yasaku Edogai in a ploy to deceive the other treasure hunters. Then Ogata, the rogue sniper, adds even more fuel to the fire when he enters the game...
For mature audiences.
Payment & Security
Your payment information is processed securely. We do not store credit card details nor have access to your credit card information.