Roll over image to zoom in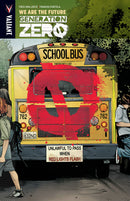 Description
Ready...Set...Riot!

Years ago, the children of the experimental strike team known as Generation
Zero were taken from their families by Project Rising Spirit, a private weapons contractor, and raised to be psychic soldiers. After years of taking orders, they have fought for and won their freedom.

Now, the world's most wanted teenagers have pledged to protect each other
tooth and claw, while using their extraordinary abilities to right wrongs for a generation without a future... To fight for kids, just like them.

One of those kids is Keisha Sherman, whose boyfriend just turned up dead after a suspicious car crash in Rook, Michigan - a newly booming tech town that sprang from rags to superriches seemingly overnight. When Keisha makes a desperate plea into her webcam, the local high school suddenly finds itself with several unusual new students... But as word of Generation Zero's presence spreads rapidly through the halls, this volatile band of teenage upstarts is about to discover that they're far from the most extraordinary thing lurking behind Rook's stainless-steel facade...

New York Times best-selling writer Fred Van Lente (ARCHER & ARMSTRONG, Amazing Spider-Man) and blockbuster artist Francis Portela (FAITH) launch four highly specialized superhuman soldiers into their most dangerous mission yet: high school!

Collecting GENERATION ZERO #1-4.
Payment & Security
Your payment information is processed securely. We do not store credit card details nor have access to your credit card information.