Roll over image to zoom in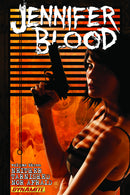 Description
"Sometimes 'always'  isn't very long."

It looks like Jen's finally got everything she wants - her crusade against her murderous Uncles is over and done with and she's successfully fended off attacks by everyone from war profiteers to waffle salesmen. There's just one tiny fly in the ointment: Detective Elaine Pruitt, Homicide. Jennifer Blood killed her partner, but didn't quite manage to kill her. That was a mistake.  

Meanwhile, an old flame of Andy's re-enters his life. For anyone else's family, it'd be the makings of a fairly standard suburban drama. But this is Jennifer Blood's family. And she'll do anything she thinks she has to to preserve it.

This volume collects issues 13-18 by Al Ewing, Kewber Baal and Eman Casallos, and includes all of the covers by Tim Bradstreet and more.
Payment & Security
Your payment information is processed securely. We do not store credit card details nor have access to your credit card information.