Roll over image to zoom in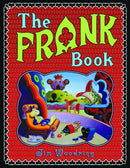 Description
by Jim Woodring;
introduction by Francis Ford Coppola
In honor of Frank's 20th anniversary, Fantagraphics is re-releasing the long out-of-print Frank Book omnibus in both the classic hardcover format and also a softcover edition for those on a budget. The Frank Book collects all the Frank material up to the mid-aughts, including several jaw-droppingly beautiful full-color stories, literally dozens of lushly-delineated black-and-white stories, and a treasure trove of covers and illustrations.

Payment & Security
Your payment information is processed securely. We do not store credit card details nor have access to your credit card information.