Roll over image to zoom in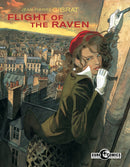 Description
Jean-Pierre Gibrat's lushly colored graphic novel is one of the most stunningly beautiful comics of the 21st Century. The story takes place in Paris during the German occupation and stars a memorable heroine in the French Resistance fighter named Jeanne. With the help of an apolitical cat burglar named François, she tries to save her comrades, including her missing sister Cécile, from the Gestapo. They walk in the places between shadows, as Gibrat uses the evocative Paris rooftops and river barges on the Seine almost as separate characters. The book also includes a portfolio of pin-ups featuring its heroine.
•   Winner of the Best Artist Award at the Angoulême Festival!
Payment & Security
Your payment information is processed securely. We do not store credit card details nor have access to your credit card information.