Roll over image to zoom in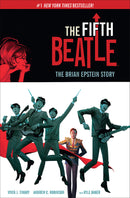 Description
The Fifth Beatle recounts the untold story of visionary Beatles manager Brian Epstein-who created Beatlemania and guided the band from basement gigs to unprecedented international stardom. This multiple-award-winning graphic novel has been added to the Rock and Roll Hall of Fame Library and Archives!

This new softcover edition includes a revised sketchbook and Beatles memorabilia bonus section with behind-the-scenes insights from writer Vivek Tiwary and artists Andrew Robinson and Kyle Baker-expanded to include eight pages unique to this edition!
Payment & Security
Your payment information is processed securely. We do not store credit card details nor have access to your credit card information.