Roll over image to zoom in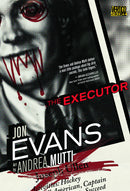 Description
Written by JON EVANS
Art by ANDREA MUTTI
Cover by LEE BERMEJO
Now in trade paperback! THE EXECUTOR is the story of Joseph Ullen, a retired pro athlete, who returns to his hometown in upstate New York when he's named executor of his high-school sweetheart's will. In a search to find out what really happened to Miriam following her mysterious death, Joseph is confronted with his own haunted past and the possibility that the two are connected.

Payment & Security
Your payment information is processed securely. We do not store credit card details nor have access to your credit card information.