Roll over image to zoom in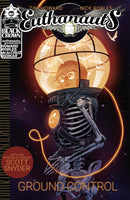 Description
Death is like space-a seemingly unknowable, terrifying blackness, that yield incredible discoveries and truths-if only you've got the right kind of rocket ship.
What if suicide isn't a desire to die, but a desire to be somewhere else?
What if there is a place we can go after death, but we have no way to phone home about it?
What if the Freudian death instinct is not destructive... but discovery?
After a near-death experience, lonely funeral home receptionist Thalia Rosewood is recruited into the Euthanauts, a select group of psychonauts, sick folk, and other intrepid explorers who pass over willingly to determine What Lies Beyond. Tini Howard combines her trademark black humor and grounded, realistic storytelling with an otherworldly and mind-expanding exploration of the one thing we all have in common.
Payment & Security
Your payment information is processed securely. We do not store credit card details nor have access to your credit card information.