Roll over image to zoom in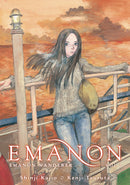 Description
Emanon's wanderings across late-1960s Japan bring her across other lives in small country towns, with each encounter leaving people transformed in her wake. Yet when love once again leads to pregnancy and the start of a new cycle in Emanon's birth and rebirth, she is confronted with something she has never before borne: twins, one of them (for the first time), a boy. Will he too grow up to inherit her immortal memories, as all her daughters have before?
o Includes 72 pages in fully painted color!
Payment & Security
Your payment information is processed securely. We do not store credit card details nor have access to your credit card information.