Roll over image to zoom in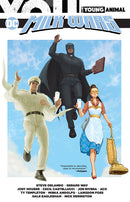 Description
What happens when the Doom Patrol meets the Justice League of America? Working
together, can they destroy the evil, interdimensional corporation called RetConn? To kick off its plan to use the radioactive milk of psychic cows to take the edge off the World's Greatest Heroes,  RetConn has gone all the way to the top. Meet Milkman Man, previously unknown son of Krypton, who was sent to our planet only to be adopted by an evil dairy farmer and raised to love all things dairy! Collects JLA/DOOM PATROL SPECIAL #1, MOTHER PANIC / BATMAN SPECIAL #1, SHADE, THE CHANGING GIRL / WONDER WOMAN SPECIAL #1, CAVE CARSON HAS A CYBERNETIC EYE / SWAMP THING SPECIAL #1 and DOOM PATROL / JLA SPECIAL #1.
Payment & Security
Your payment information is processed securely. We do not store credit card details nor have access to your credit card information.