Roll over image to zoom in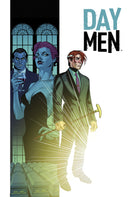 Description
WHY WE LOVE IT: Not only did we trip over ourselves to have the first ongoing comic book work from industry legend Brian Stelfreeze since 2005, but Matt Gagnon (FREELANCERS) and Michael Alan Nelson (SUPERGIRL, HEXED) have created a nuanced, action-packed piece of genre fiction that is core to BOOM!'s DNA.
WHY YOU'LL LOVE IT: Any fan of smart, sexy vampire fiction will love the juxtaposition of classic crime noir elements in DAY MEN. The world of DAY MEN is utterly unique and completely engrossing.
WHAT IT'S ABOUT: For thousands of years, the world has been controlled by the "50 Families," a secret network of vampire covens engaged in a timeless struggle for power. But when the sun rises, the vampires are forced to employ the services of a human who acts as their daytime fixer and protector. Trained for centuries to be the mortal soldiers of their vampire employers, the Day Men go forth at sunrise, alone into the world, to do the bidding of their sleeping benefactors.
Payment & Security
Your payment information is processed securely. We do not store credit card details nor have access to your credit card information.