Roll over image to zoom in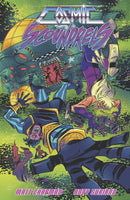 Description
Two creators whose credentials include some of animation's best-loved properties come together for a sci-fi action bromance of galactic proportions, filtered through the lens of an '80s music video. Space-fairing bachelor scalawags Love Savage and Roshambo-along with a little mothering from their ship's AI, Mrs. Billingsley-shuttle from job to job and continually find themselves on the wrong side of the law. Despite their best efforts to look out only for themselves, they usually end up involved with alien crooks, shady black market baby schemes, and space sickness-inducing drugs. They're on the loose and on the run-from everyone!

Bullet points:
* Matt Chapman is the co-creator of Homestar Runner and has worked on Disney's Gravity Falls. Andy Suriano worked as an artist on both the Samurai Jack TV show and comic.
* For fans of sci-fi action comedies with dysfunctional group dynamics, like movies Guardians of the Galaxy and The Fifth Element and TV shows Cowboy Bebop and Futurama.
* Advance solicited for December release!
Payment & Security
Your payment information is processed securely. We do not store credit card details nor have access to your credit card information.