Roll over image to zoom in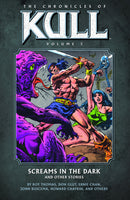 Description
The Chronicles of Kull Volume 3 collects the last nine exciting Kull the Destroyer comics, tying up all of the loose ends from the previous two volumes and culminating in the most important fight of the former Valusian king's life-the battle for the Topaz throne and his former crown! Kull will need the help of an enigmatic warrior woman, Laralei, and an unlikely ally in arms, Ridondo the minstrel, if he is to conquer a giant extradimensional creature, three scheming wizards, and the wizard's skull-headed master and again rule the Purple Kingdom!
o Volume 3 reprints Kull the Destroyer #21-#29, the short story "The Mirrors of Tuzun Thune" from Conan the Barbarian #25, Conan the Barbarian #68, "Beast from the Abyss" from Conan Annual #3, and a special cover gallery.



Payment & Security
Your payment information is processed securely. We do not store credit card details nor have access to your credit card information.