Roll over image to zoom in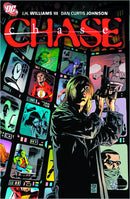 Description
Written by D. CURTIS JOHNSON and J.H. WILLIAMS III
Art by J.H. WILLIAMS III, MICK GRAY, CHARLIE ADLARD, YANICK PAQUETTE, BOB HALL, ERIC CANETE, EDUARDO BARRETO, RICK BURCHETT, GREG SCOTT and others
Cover by J.H. WILLIAMS III
Collecting a cult favorite series from the 1990s spotlighting the amazing artwork of J.H. Williams III, CHASE stars Agent Cameron Chase. On field assignment for the Department of Extranormal Operations, a government agency with jurisdiction over superhuman activity, she's about to encounter some unexpected surprises, as her own mysterious powers come into play - powers she doesn't fully understand.
This spectacular collection includes appearances by Batman, Green Lantern, The Flash, Martian Manhunter, Teen Titans, the Justice Society of America and more, in stories from CHASE #1-9 and #1,000,000, BATMAN #550, #1-9, DC UNIVERSE SECRET FILES #1, SECRET FILES GUIDE TO THE DC UNIVERSE 2000 #31, SUPERMAN: OUR WORLDS AT WAR SECRET FILES #1, JSA SECRET FILES #2, THE FLASH SECRET FILES #3, THE JOKER: LAST LAUGH SECRET FILES #1, BATGIRL SECRET FILES #1 and HAWKMAN SECRET FILES #1.

Payment & Security
Your payment information is processed securely. We do not store credit card details nor have access to your credit card information.