Roll over image to zoom in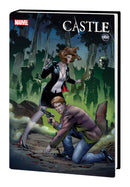 Description
The best-selling graphic novel saga, based on the world of ABC's hit primetime series, continues!
Derrick Storm is back. And he has a new, deadly case to solve.
When the daughters of four high-powered international businessmen are discovered dead in NY, the NYPD scrambles to bring the murderer to justice. But when a fifth girl is found mutilated in a pool of her own blood, her prestigious French family hires Derrick Storm to run his own investigation and find the real killer. Storm has only one lead - a strange symbol drawn in blood. Storm enlists the help of the beautiful and daring Clara Strike, his CIA handler. Together they uncover a deep web of deception under the guise of mysticism and devotion. And in a race against time, this most unlikely pair unlock a mystery capable of creating global catastrophe!
Payment & Security
Your payment information is processed securely. We do not store credit card details nor have access to your credit card information.